Hamburg GAA's cornerstone of the full-back line, Children's Officer, and chief motivator, Arnold Morascher, recently attended a kids and youth coaching course in Munich organised by the German GAA / Deutscher Bund Gälischer Sportarten.
Arnold was joined by over a dozen other coaches from the likes of Rómhánaigh Augsburg Óg, Setanta Berlin GAA and Munich Colmcilles GAA. O'Reilly (ó Uíbh Fhailí) took them through what it takes, combining theory with practical games, drills and coaching approaches.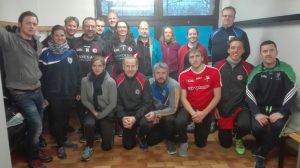 "Liam was very good at keeping us not only busy and involved, but also in giving us the opportunities to bring in our own ideas and there was plenty of space for discussion and craic."
We can't wait to see Arnold put his new skills to use when he begins our upcoming school coaching sessions and we are even more excited at the prospect of a youth tournament in the future!
A big thanks to all involved for making this possible!