We train a few times per week – Gaelic football on Wednesdays & Fridays and Hurling/Camogie on Saturdays For location details for each training session, please check our Facebook events or our events on Meetup.com.
Also, please sign up for the day you wish to come on the Hochshulsport sign-up page. Scroll down to the bottom and click 'Vormerkliste' for the training you wish to attend.

Training events on Facebook & Meetup.com
If you're interested in coming along (we'd love to see you), you simple need to show up. No need to sign up to anything. However, if you'd like, you can find our training events on our Facebook page and we're also on Meetup.com.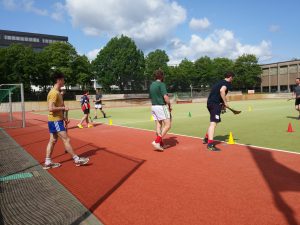 Hurling & Camogie Training
Our Hurling & Camogie training is located at the Hochschulsport Hamburg facilities, Turmweg 2, 20148 Hamburg. The closest U-Bahn stop is Hallerstrasse.
Walk up the stairs out of the U-Bahn station, continue on past the Vapiano on your left, take the left, continue straight on and then on the right you will find the entrance.
Turnweg pitch co-ordinates:
53.5718059, 9.9919447
On Fridays, Gaelic football training takes place at the Hochschulsport Hamburg facilities listed under 'Hurling & Camogie Training' above.
On Wednesdays, Gaelic football is in Stadtpark. If you are coming from Hamburg Hauptbahnof/Main Station – take the U1 to Kellinghusenstrasse, and then the U3 to Borgweg (Stadtpark) stop.
Walk up the stairs, exit the station, and take a left. Continue straight on until you come to a set of traffic lights on your right – cross here, enter the park, continue down past the green rubbish bins, take a right, then a left….and there finally we will be on the grass!
Stadtpark pitch co-ordinates:
53.594196, 10.018387
Instructional Videos
---
Below you will find a few videos demonstrating some key hurling, football and camogie skills.